Godinton
De Godinton Gardens liggen in een uitgestrekt parklandschap. Het huis stamt uit de 14e eeuw en is rustig, intiem, en één van de belangrijkste huizen in Kent.
Voor een plattegrond, klik op vergroting; de Italian Garden ligt iets links van het midden (nr. 7):
Godinton House, frontaal:
The exterior is Jacobean, the compass gables added in 1620 by the great Captain Nicholas Toke but, within the house, the architectural puzzle is revealed from room to room. The Library, Chinese Room, White Room and magnificently carved staircase lead to the Great Chamber and Gallery, all revealing their own secrets and wonders […].

It is a comfortable, much-loved home; each room has a different feel, a contrast on a theme not designed by architect or curator but for the taste and enjoyment of those who lived here and now for those who visit. [1]
De tuin heeft mooie hagen, formele taxus-structuren, en een wildebloementuin. De intieme Italian Garden is aangelegd in 1920; de Walled garden stamt uit de 18e eeuw.
Naast deze twee tuinen zijn er nog de Rose Garden, de Pan Garden, Herbaceous borders, de Lily Pond en de Wild Garden. [2]
A favourite is the intimate Italian Garden, the entrance framed by statues of the four continents and a wonderful Japanese Wisteria producing a waterfall of lavender flowers in May. [1]
The Italian Garden:
[one_half]
[/one_half]
[one_half_last]
[/one_half_last]
Aan het einde van de vijver, vanaf de Portland stone ballustrade heb je een prachtig uitzicht op de Stour valley: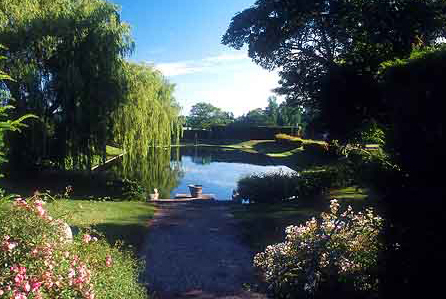 Verwijzing
[1] Godinton House and Gardens
[divider]